En anden by (Another city)
Debate book about urban development.
"Virkelig vigtig bog. Den går rent ind." Gitte Juul, architect.
Henrik Valeur (2021) The Architectural Publisher B. ISBN: 978-87-92700-35-3. 120 pages.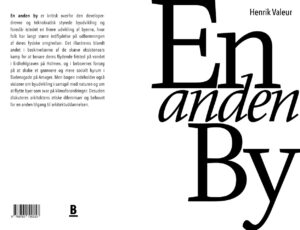 India: the Urban Transition – a Case Study of Development Urbanism
Collaboration with activists, bureaucrats, developers, entrepreneurs, researchers and students in India.
"The fine grain reading of issues in the Indian city is an important contribution so is the attempt to connect so many dots to make sense of the moving targets we encounter in Urbanism in India." Rahul Mehrotra, Professor and Chair of Urban Planning and Design, Harvard University.
Excerpt of review by Mukta Naik, Senior Research Associate, Centre for Policy Research, New Delhi: "Henrik's observations appear valuable in repositioning important questions and seeking opportunities for creative solutions."
Excerpt of review by Prof. Preeti Chopra, University of Wisconsin-Madison: "This well-supported study, excavating some critical problems facing South Asian cities and offering a range of solutions, is a fascinating and invigorating work that deserves a wide readership."
Henrik Valeur (2014) The Architectural Publisher B. ISBN: 978-87-92700-09-4. 344 pages.
Website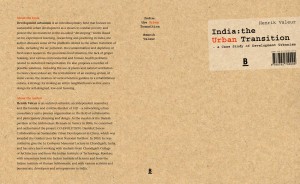 Shanghai-Beijing – byhistorier og moderne byer (Shanghai-Beijing – urban stories and modern cities)
Excerpt: In China traditional gardens are perceived as architectural masterpieces in which nature, poetry and art is merged to please and move the mind.
Henrik Valeur (2010) Self-published. 44 pages.
Booklet [3.6MB]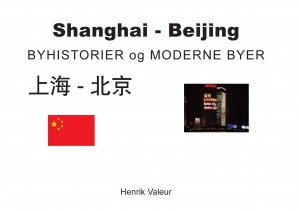 The Harmonious City
Catalogue for exhibition at Shanghai Urban Planning Exhibition Center.
Contributions by UiD, The Danish Ministry for the Environment, The Danish Transport Research Institute, The Municipality of Copenhagen, The Municipality of Odense, APV, BioKube, Building Heritage of Denmark, CIOS, Danfoss, DHI, Grontmij | Carl Bro, Kontrapunkt, Roxul / Rockwool, Velux, Vestas.
Henrik Valeur (ed.) (2007) The Danish Architecture Centre. ISBN 87-90668-64-2. 84 pages.
Harmonious_City [60 MB]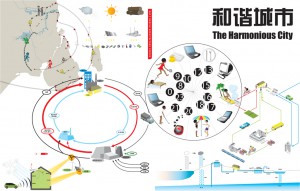 CO-EVOLUTION: Danish/Chinese Collaboration on Sustainable Urban Development in China
Catalogue for exhibition at the Venice Biennale, 10th International Architecture Exhibition and the 2nd Architectural Biennial Beijing.
Contributions by Henrik Valeur and UiD, CEBRA + Tsinghua, COBE + CQU, EFFEKT + Tongji and TRANSFORM + XAUAT.
Excerpt from the curator's statement: Sustainable urban development is a global issue. Not only in the geographical sense, whereby we all depend on the same resources and are affected by the same pollution, but also in the professional sense in that no single discipline can solve these problems alone. Thus, sustainable urban development must be thought out in collaboration between various peoples and disciplines.
Henrik Valeur (ed.) (2006) CO-EVOLUTION. The Danish Architecture Centre. ISBN 87-90668-61-8. 186 pages.


Valeur, H. (ed.) (2007) CO-EVOLUTION. Beijing, China Electric Power Press. ISBN 978-7-5083-5323-4. 186 pages.


E-book [10.2 MB]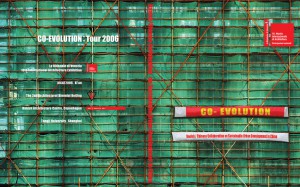 A New Future for Planning
Catalogue for exhibition at the 6th European Biennal of Towns and Town Planners. Contributions by Blankspace, Copenhagenoffice, Effekt, Force4, Mutopia, Nord, Testbedstudio and UiD.
Excerpt from the introduction by Henrik Valeur and Claus Peder Pedersen: The offices share a common understanding of the challenges and potentials of contemporary planning, but use this understanding to create different niches, different interests, which are reflected in the methods and tools presented by them in this publication.
Henrik Valeur and Frederik Fritzson (eds.) (2005) The Architectural Publisher B. ISBN 87-990146-5-3. 88 pages.
E-book [16.4MB]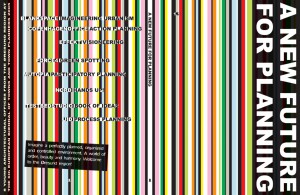 region.CoMa
Catalogue for exhibition at Form/Design Center, Malmö.
Excerpt: As a trans-national region the Öresund region differs from many other regions. Local discussions often focus on specific historical or cultural conditions, which either connect or disconnect Danes and Swedes, but the inhabitants of the Öresund region do not constitute two homogenuous populations.
Henrik Valeur and Frederik Fritzson (2001) Self-published. 26 pages.
Catalogue [4.2MB]


Catalogue [4.2MB]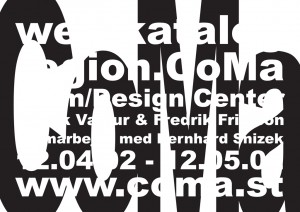 '99
Catalogue for exhibition at Arkitekturgalleriet (#9), the Danish Architecture Centre. Contributions by Alex Wall, Christophe Cornubert, MIKAN, njiric+njiric, WEST8 and UiD.
Excerpt from the introduction: "99 is not a presentation of architecture in the usual sense. Nor is it a display of a specific style, theory or ism, defining itself by distancing itself from standard architecture. In the words of the author it is an exhibition that attempts to substitute architecture with a capital "A" in favor of an understanding of architecture as a materialization of our time.
Henrik Valeur (1999) The Architectural Publisher B. ISBN 87-90668-14-6. 32 pages.