About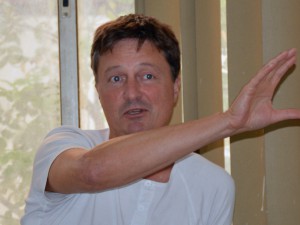 Henrik Valeur is an independent architect-urbanist (author, curator, educator, practitioner and researcher) and vagabond.
He was born in Denmark (1966), the son of visual artist Mogens Valeur and fashion designer Birgitte Valeur. His grandfathers were both civil engineers.
He graduated from the School of Architecture in Copenhagen in 1994 having previously studied with Enric Miralles at ETSAB (Barcelona). He subsequently worked briefly for Rem Koolhaas' Office for Metropolitan Architecture (OMA) in Rotterdam:
"His ability to quickly assimilate complex situations and requirements combined with a critical design sensibility made for valuable contributions." Christophe Cornubert, partner in charge, OMA, 1995
In 1997, he founded UiD (Un-identified) – a networking urban consultancy and a pioneer in the field of collaborative and participatory planning and design. Some of his early works were exhibited at the Danish Architecture Centre:
"These are radical attempts at a new architectural practice." Allan de Waal, architecture critic, Information, 1999
As the creative director of UiD, Henrik Valeur has developed the architectural concepts of "real time living" and "self-organizing spaces", "garden flats" and "green streets", the concept of "parallel processing" in urban planning and the related planning tools "1:1 sketch model", "4D+ model" and "change design model".
Based on a combined role-play and scenario game with local stakeholders, UiD developed the structure plan and the process manual for the development of Musicon, a large neighborhood "in constant movement and constant change", on a 25ha brownfield site in Roskilde. The Municipality of Roskilde received the Danish Urban Planning Award in 2012 for the "exceptionally creative planning" of Musicon.
Henrik Valeur is also the co-founder of CoMa – a multimedia mapping project on polycentric urban regions and networking multicultural societies. In addition, he has conducted research on urban mobility; policies, methods and technologies related to sustainable urban development; rapid urbanization in developing and emerging regions; climate change and cities.
As the curator of the Danish Pavilion at the Architecture Biennale in Venice in 2006, he introduced the concept of "co-evolution" in architecture (in contrast to the "star architect" concept) and conceived and orchestrated the project CO-EVOLUTION: Danish/Chinese Collaboration on Sustainable Urban Development in China, which was awarded the Golden Lion for Best National Participation:
"We salute the creativity, intelligence, and generosity of the Danish pavilion." The jury, Richard Sennett (President), Amyn Aga Khan, Antony Gormley and Zaha Hadid, Venice Biennale, 2006
In 2007, he founded UiD Shanghai Co., Ltd in China. Among the projects he designed in China was the "Bicycle Tower", which was exhibited in the Urban Best Practice Area at the World Expo in Shanghai in 2010.
Giving the Le Corbusier Memorial Lecture in Chandigarh, India, in 2010, Henrik Valeur noted that: "The problem with modernist architecture is not only that it tries to erase the past; it also obstructs the future!"
The same year he invented the term "development urbanism" to describe the possible use of urban development as a means to combat poverty and protect the environment in the so-called "developing" world. He is currently developing the theory of development urbanism and is the author of the book India: the Urban Transition – a Case Study of Development Urbanism (2014), which is based on his experiences as a teacher, researcher and practitioner in India:
"The fine grain reading of issues in the Indian city is an important contribution so is the attempt to connect so many dots to make sense of the moving targets we encounter in Urbanism in India." Rahul Mehrotra, Indian architect, Professor and Chair of Urban Planning and Design, Harvard University, 2014
He has talked about his work in India at Harvard University (South Asia Institute), University College London (Development Planning Unit), Politecnico di Milano (Open City Summer School), and at various institutions in India, including the Centre for Policy Research (New Delhi), the Tata Institute of Social Science (Hyderabad) and the Indian Institute for Human Settlements (Bangalore).
Henrik Valeur has served as a jury member of architecture competitions, including the 7th Sao Paulo International Biennial of Architecture and the IFHP Ranko Radovic Student Competition, as a convener, moderator and speaker at seminars and conferences, including the UIA's XXIInd World Architecture Congress in Istanbul and the Chinese Academy of Engineering's International Conference of Architecture and Technology in Xi'an, and in various capacities at universities and schools of architecture. He frequently gives interviews and participates in public debates.
His work is inspired by contemporary realities, the ideas of radical artistic movements like Dada and the Situationists, complexity theory and process philosophy.
He has lived and worked in Copenhagen, Barcelona, Rotterdam, Los Angeles, Shanghai, Chandigarh and Bangalore.
Portfolio 1995-2013
CV 01.09.2018